Lina Magull's blog on how to raise awareness and recognition of women's football in Germany has rightly attracted attention over the past year.
However, this attention was not granted to her because of blatant slogans, not because of populist exaggerations. No, she described in a matter-of-fact way and with strong arguments how we can move women's football forward in Germany. Lina also drew comparisons with the Barclays FA Women's Super League (FAWSL), the first women's football league in England.
And it's true, the level of professionalism in British women's football is much higher than in the Flyeralarm Bundesliga. As a player for West Ham United, I see this first hand. I would therefore like to try to make concrete differences clear. Just like Lina, I am not interested in badmouthing anything. It's about showing concrete approaches on how things can be better, how we can learn from others.
In England there are optimal conditions for women's football
Lina rightly pointed out that the dovetailing of men's and women's teams at German professional clubs leaves a lot to be desired. Many professional clubs in the men's sector do not have women's teams that play at the highest level or completely disconnect their women's teams from the men's professional structures.
Only top German clubs can compete
The names of the clubs in the FAWSL, on the other hand, make one sit up and take notice: Arsenal London, Manchester United, Manchester City, Chelsea FC, Tottenham Hotspurs, West Ham United. Eight clubs in the FAWSL, which comprises a total of twelve teams, are represented in the Premier League, the remaining four in the Championship, England's second division.
Being part of the Premier League clubs comes with access to modern training grounds; some of these are shared with the male professionals. At my club West Ham United, for example, we train at the Chadwell Heath Academy ground. This legendary training centre has been the training ground of club greats such as Geoff Hurst, Bobby Moore and Martin Peters.
In concrete terms, this means that we train there on three grass pitches, an artificial pitch and a covered artificial pitch hall. In addition, the academy offers a weight room, media rooms, physio facilities and a cafeteria where the team can eat after the sessions.
These professional conditions can only be found in the top clubs of the Flyeralarm Women's Bundesliga - I would like to single out Bayern Munich, Vfl Wolfsburg, TSG Hoffenheim and Eintracht Frankfurt.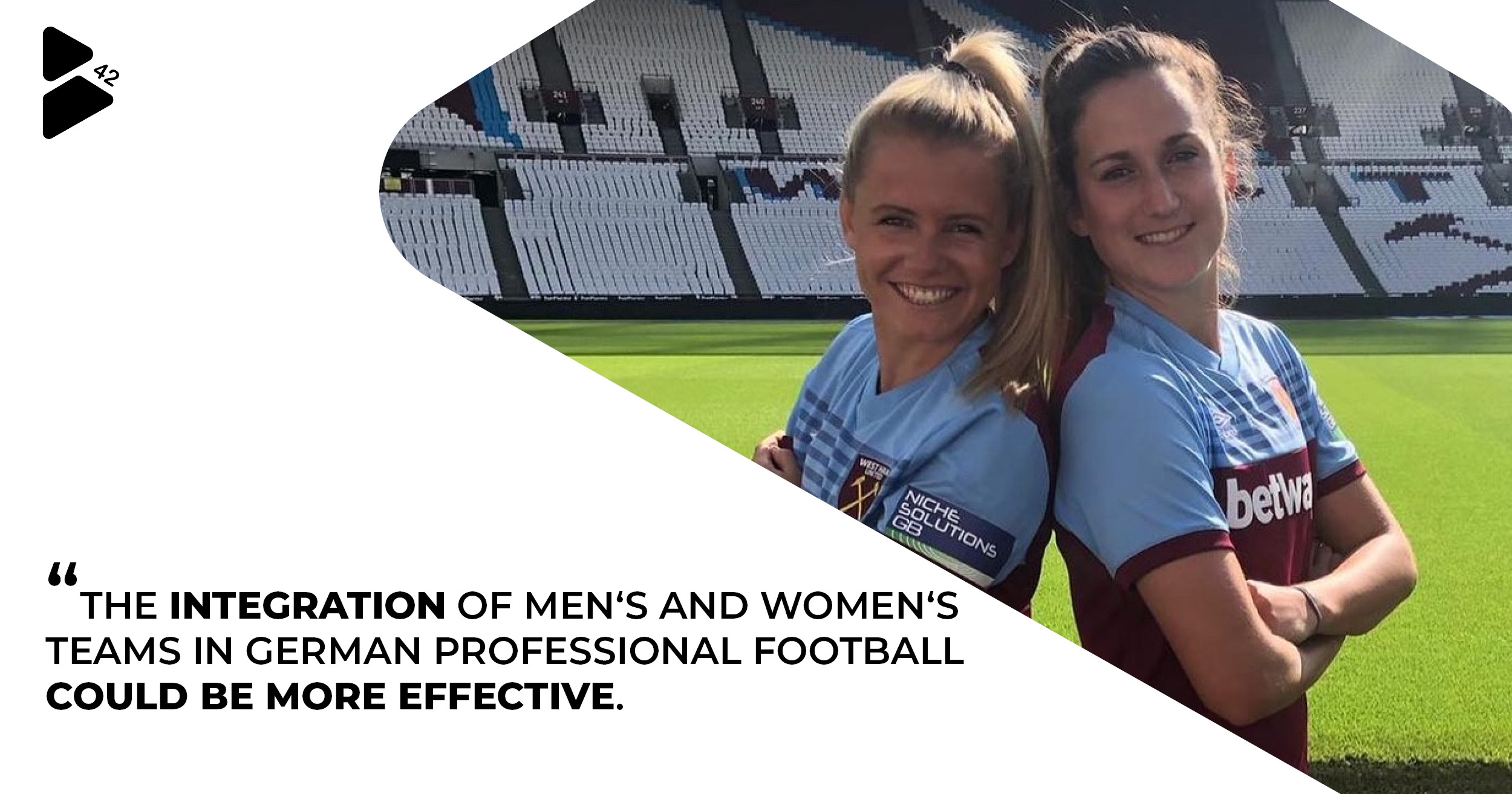 A staff of almost 20 people
Another important factor in professionalisation is the composition of the staff. In addition to a head coach, co-trainer and goalkeeper coach, every FAWSL team has at least one full-time physiotherapist. In addition, there is a team doctor, who is sometimes also present at the training sessions, a full-time video analyst and a full-time athletic trainer.
Champions League representatives Chelsea and Manchester City do not have to hide from the male teams in this area either: the staff here comprises almost 20 employees who offer the players the most professional care. These structures did not fall from the sky. In particular, they are the result of the FA's licensing process. It has set standards to professionalise the league in the long term.
GPS trackers, field cams and co - English football works innovatively
The FAWSL is also a few steps ahead when it comes to innovation and digitalisation. In England, for example, the use of GPS trackers is increasing in order to be able to control the training and thus the load on the players individually. But the technology is also used on match day, so that a holistic stress picture can be created for each individual player.
At West Ham United, we also use video footage from matches and training sessions - visual material that helps us to work on our (individual) weaknesses in as much detail as possible. Every training session is recorded with permanently installed "field cams" and made available on the analysis platform "Hudl", so that every player has the opportunity to view the training sessions afterwards.
The topic of stress control is also managed here at the highest level. After the sessions, each player rates the perceived training intensity on an app - all teams in the FAWLS use this system.
In addition, we fill out a short questionnaire on our physical condition in the morning before the first session. The background to this strategy is to avoid injuries due to overload.
The successes are clearly visible: the periodisation of intensity can be better and more individualised and is a big plus in terms of training control.
England ensures more media presence for women's football
But when it comes to the recognition of women's football, there is especially the question of how women's football is perceived, what presence it has in England.
Lina rightly complained about the lack of (media) attention for women's football in Germany. How does it compare in England? Not everything is optimal here either, but I see developments here that the Bundesliga could take a leaf out of their book.
Above all, a clear strategy is becoming apparent: commercialisation and visibility are 100 per cent the focus of those responsible for the Woman Soccer League.
More than one top match per week
The FAWSL matches are regularly broadcast on the association's own streaming platform "FA PLAYER". This ensures access and media presence for all teams. A top match of the week is additionally broadcast on BBC or BT Sport on English TV, thus extremely increasing the attention for the league. Is it conceivable that ARD and ZDF will broadcast individual Bundesliga matches? I'm afraid we still have a long way to go.
In Germany, only one match per matchday is currently broadcast on Eurosport, and sometimes another on the streaming platform DFB-TV. As a fan of a single club, you don't get to enjoy every weekend in front of the TV/laptop.
Decentralised sale of media rights - for financial conditions
In England, media rights are to be sold in a decentralised manner in the future in order to expand revenues for the clubs. So as not to be misunderstood at this point:
I do not want to talk about commercialisation as in men's football. It's about fair financial conditions under which we professionals earn so that we can live from it.
Joint social media channels of the professional teams.
But each individual club can independently do something to increase the presence of their women's division. On social media, you increasingly see the merging of the male and female accounts of FAWSL and Premier League clubs.
An example: Manchester City has a joint account - and provides updates on the women's team as well as the men's team. That's the way it has to be! Such a move costs hardly any effort or money, but brings women's football decisively forward without weakening men's football.
Another example: Again and again there are promotional campaigns to keep the attention on the women's teams high. For example, outside the Corona phase, they repeatedly play in the men's stadiums in front of large crowds.
These structures then also lead, among other things, to top players coming to England, for example Pernille Harder, who switched from Wolfsburg to Chelsea, and further increases the attractiveness of the league.
In the end, we have to learn from each other, see how things can be done better and formulate constructive approaches. Only if we keep a critical eye and are ready for change can we move women's football forward in this country. It deserves it!
Get the app now with many more exercises, performance and power programmes for the most common football injuries and start your best season:


Be fearless. Be focused. B42