There are players who never saw the inside of a professional youth training centre and even played in the district league as adults - and still became professionals.
Arminia Bielefeld's top striker and promotion hero Fabian Klos is one such player - as is Jamie Vardy of Leicester City. Even France's world champion Olivier Giroud and the incomparable Didier Drogba only found their feet in the French first division in their mid-twenties.
What unites them? They stuck to their dreams and didn't let "well-meaning" advice to end their careers or serious setbacks in the form of injuries get them down.
Like Janine Gibson. The 19-year-old regional league player from FFC Wacker München has a dream. And she is pursuing it - also with the help of B42.
When you're at the bottom, the only way is up
"You'd better play in the third team!" These were harsh words that her former coach addressed said to Janine. But instead of slipping into the valley of tears and taking these words as a reason to give up, the girl from Munich decided to fight.
She wanted to prove it to herself.
To try to show that it is not always the straight careers that seem to be sketched out on a drawing board.
And also to prove that with will, ambition and discipline, one can achieve miracles.
Little training, little fitness, more mistakes: a vicious circle
Janine's football career was anything but straightforward. Starting out in boys' teams, she did not go to a professional club, but to boarding school. Consequently, football was only possible at weekends.
Janine herself says about this time that it was difficult. Above all, she was technically and physically weaker than the rest. And yet, in this situation, there was another coach, one who saw her potential and passion and decided that it was also okay if she only came to the games on the weekend.
In football, physical weaknesses inevitably lead to technical errors, as a pulse on the edge or cramps in the legs make it difficult to stop, pass and shoot. Exactly the kind of football arithmetic that Janine Gibson also experienced. The performances were no longer right.
For her, it was the prelude to working harder on herself physically as well.
Fitness training with B42 as a Gamechanger
"I found out about B42 on the internet," says Janine, describing her first contact with the fitness app for footballers. "It was exactly what I was looking for: Athletic training for footballers and especially for female footballers."
She used the app extensively during the first Covid lockdown in spring 2020. Going through the Gamechanger completely, training daily. A feeling of addiction to the daily training made itself felt from the beginning.
"After the first Lockdown, I finally got on with football. And I was suddenly a different player. I was clearly fitter than many opponents and also technically ready to take the next step."
Thanks to intensive training with the GAMECHANGER, she fought her way into the first regional league team of FFC Wacker Munich. Until the lockdown again.
Now she trains specifically on her endurance with the PACEMAKER.
Winners try to give everything for their dream
Of course Janine knows that her dreams are very ambitious. Whether you can realise your dreams of making a profit like Fabian Klos or Jamie Vardy when you are still a senior footballer is, apart from talent and ambition, above all a matter of luck.
Being in the right place at the right time, getting through your career without serious injuries, but also never doubting yourself - these are the recipes for success for the big dream.
And Janine Gibson, whether she turns pro or not, can still look in the mirror every day with a good feeling. Because she gives everything for her dream every day.
True to the motto of the greatest player of all time, Pele:
"Success is not an accident. It is the result of hard work, perseverance, learning, studying, sacrifice and, above all, love for what you are doing or about to learn."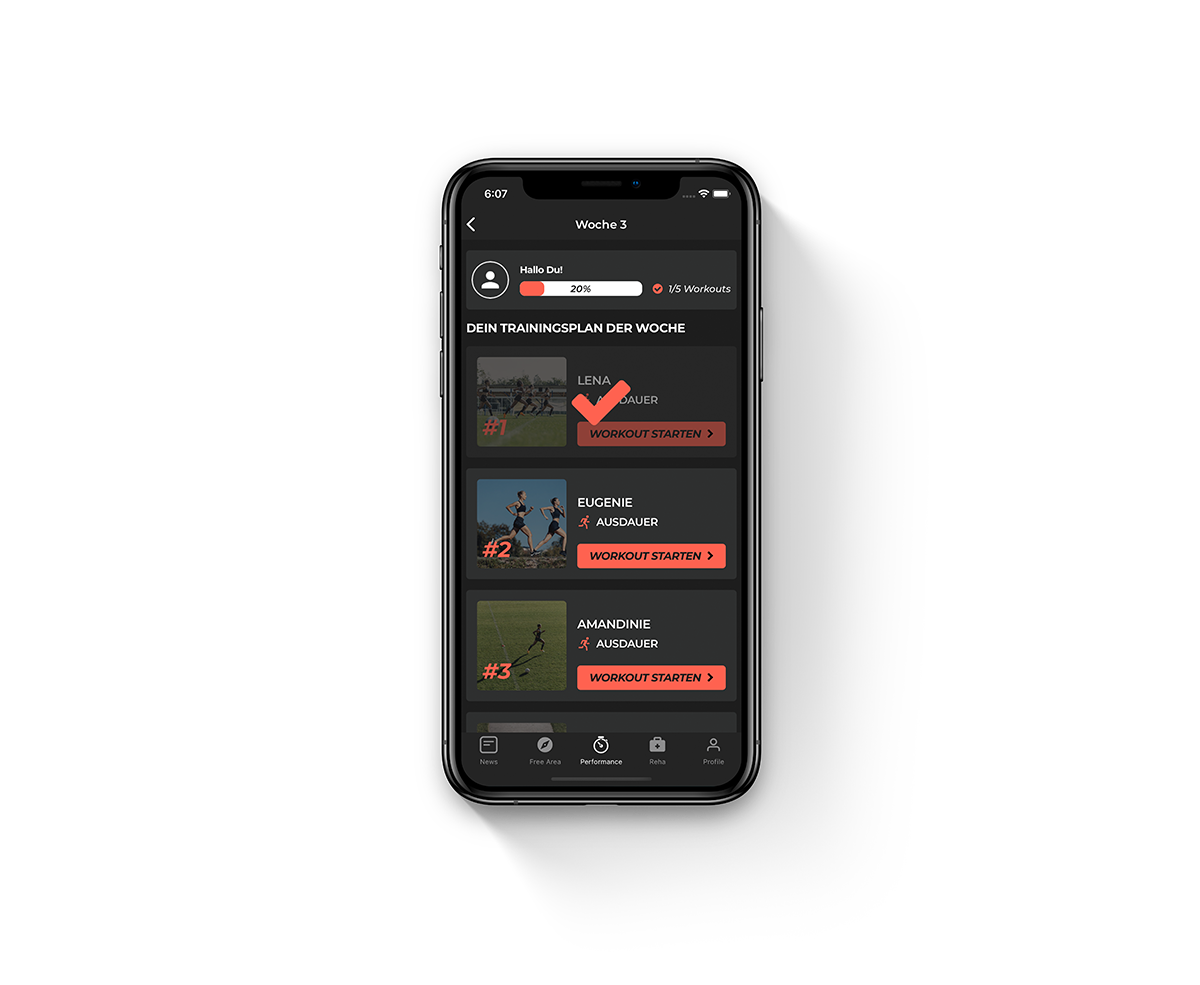 Our training programme will shape you and change you - we promise. Are you ready?
Download the B42 Football App right now:


Be Fearless.
Be Focussed.
B42