A guest article by our expert Dr. Birgit Fellner on injury prevention in women's football
Training concepts that can sustainably reduce the risk of injury should be an integral part of every training process.
In this blog post, we therefore show you how you can sustainably increase your resistance to injuries.
Overview
Neuromuscular control and adaptation is therefore the declared goal of injury prevention programmes in women's football:
The aim is to modify movements, movement control and motor skills in order to avoid or counteract the dynamics of movement sequences that could lead to injury.
Injury prevention exercises should be carried out as an independent training focus, but are also suitable within warm-up programmes to integrate injury prevention elements into team training.
It is important to develop a routine in order to be able to generate automatisms.
However, the contents of preventive training must meet the function-specific requirements of a football action (duels, passes, headers, tackles, runs with abrupt stops and changes of direction).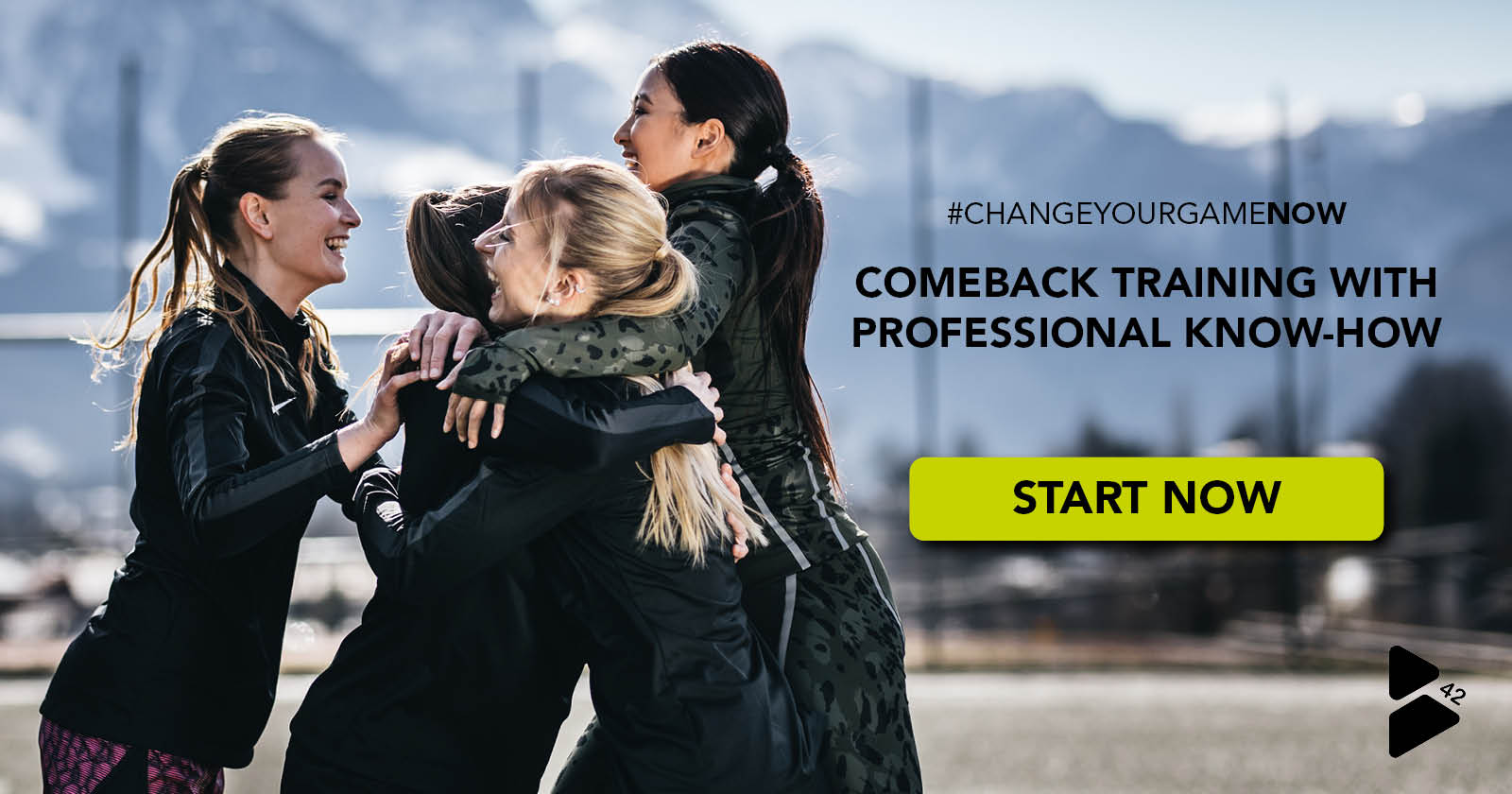 Therefore, we see areas of general warming and activation, mobilisation, trunk & leg axis stability, plyometry, explicit jump and landing training as well as exercises with direction and speed changes (agility) and specific movement patterns comparable to those from the game as essential.
Training of torso and stance stability
Football is a duel sport - the (indirect) contact with the opponent as a disturbing factor is therefore often the cause of injuries.
Air duels, running duels, jostling or tackling throw the body position of a female football player out of balance.
If she is not able to adjust her movement programme to restore the balance, the risk of injury is high.
However, effective stability requires maximum control against unwanted movements at all levels of the body.
Fuselage Control
Research teams found that deficits in neuromuscular trunk control are associated with increased susceptibility to knee injuries, especially in women, which justifies the use of special core training within injury prevention programmes in women's football.
This training focus is also said to have a positive effect on the dynamic balance of football players.
In the dynamics of his sport, the torso of a female football player is exposed to many asymmetric and unexpected movements that generate high forces in all three body layers (see picture above).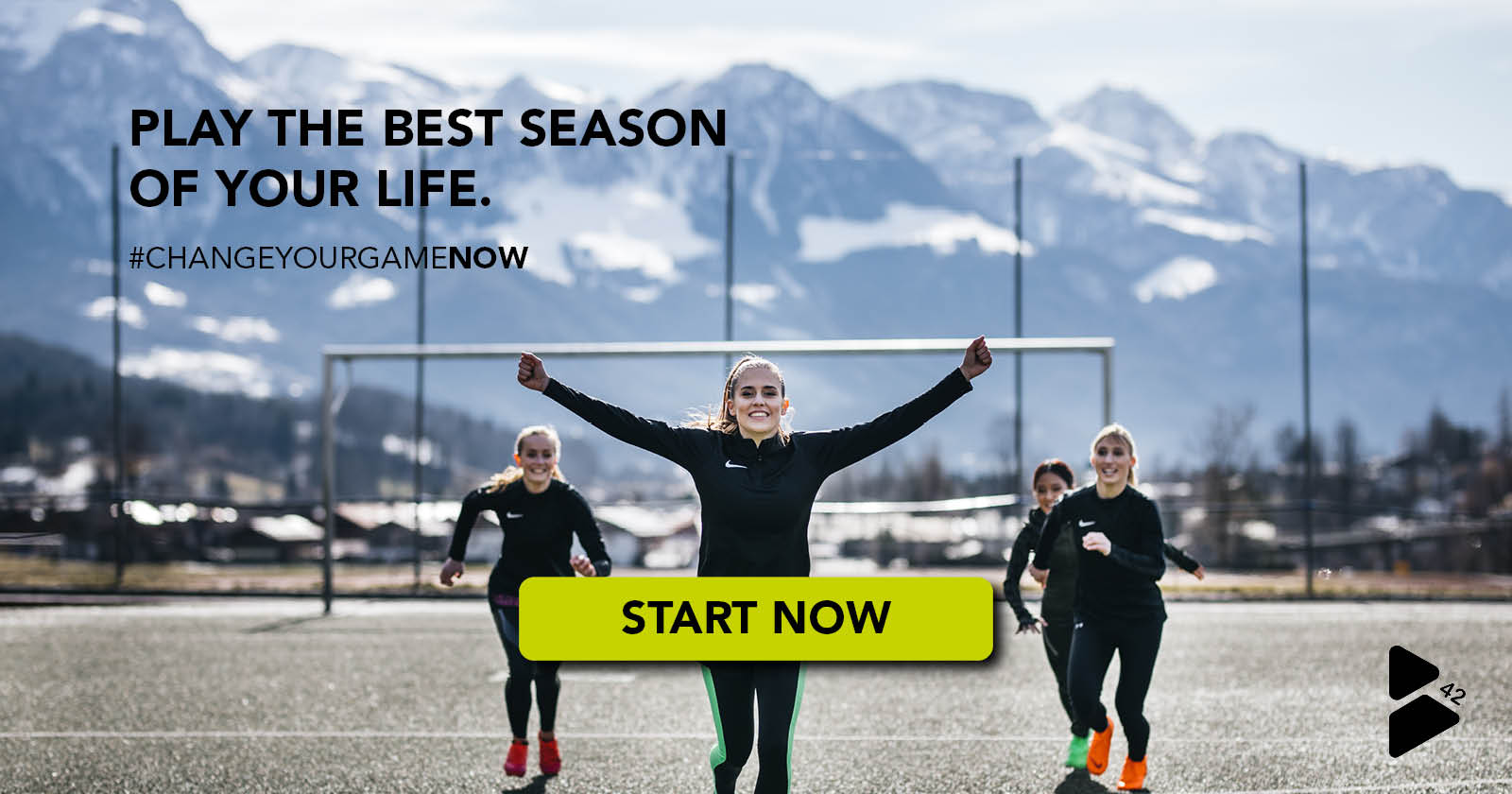 In duels, air duels or braking movements, players have to dynamically stabilise the forces acting on them or automatically adapt the body position to the new situation during an explosive movement. Decisive goals in trunk stabilisation training are:
The improvement of the control ofstabilisingmusculature
The improvement of the automation ofstabilisingmuscle contractions in the dynamics of corresponding game situations and movement patterns
Theoptimisationof posture and balance by regulating the neuromuscular control system
Training content for athletes must go beyond controlled static holding exercises, as adequate stabilising is always required in dynamic situations for footballers.
The training of the reactive stabilisation force in football is particularly specific and necessary.
In practice, this means that movements of the extremity (e.g. arm swing and swing leg from the running movement) change the dynamics of the holding exercise and therefore demand the dynamic stabilisation ability accordingly.
The position of the body in space should also be considered and exercises should be adapted to the upright (football-specific) posture.
Stand- and leg axis stabilisation
Stabilisation training also means, in a broader sense, the improvement of leg axis stabilisation, especially in dynamics. Deviations from a functionally correct pelvic-leg axis are evaluated as insufficient knee joint stabilisation and are ultimately an indicator of injuries.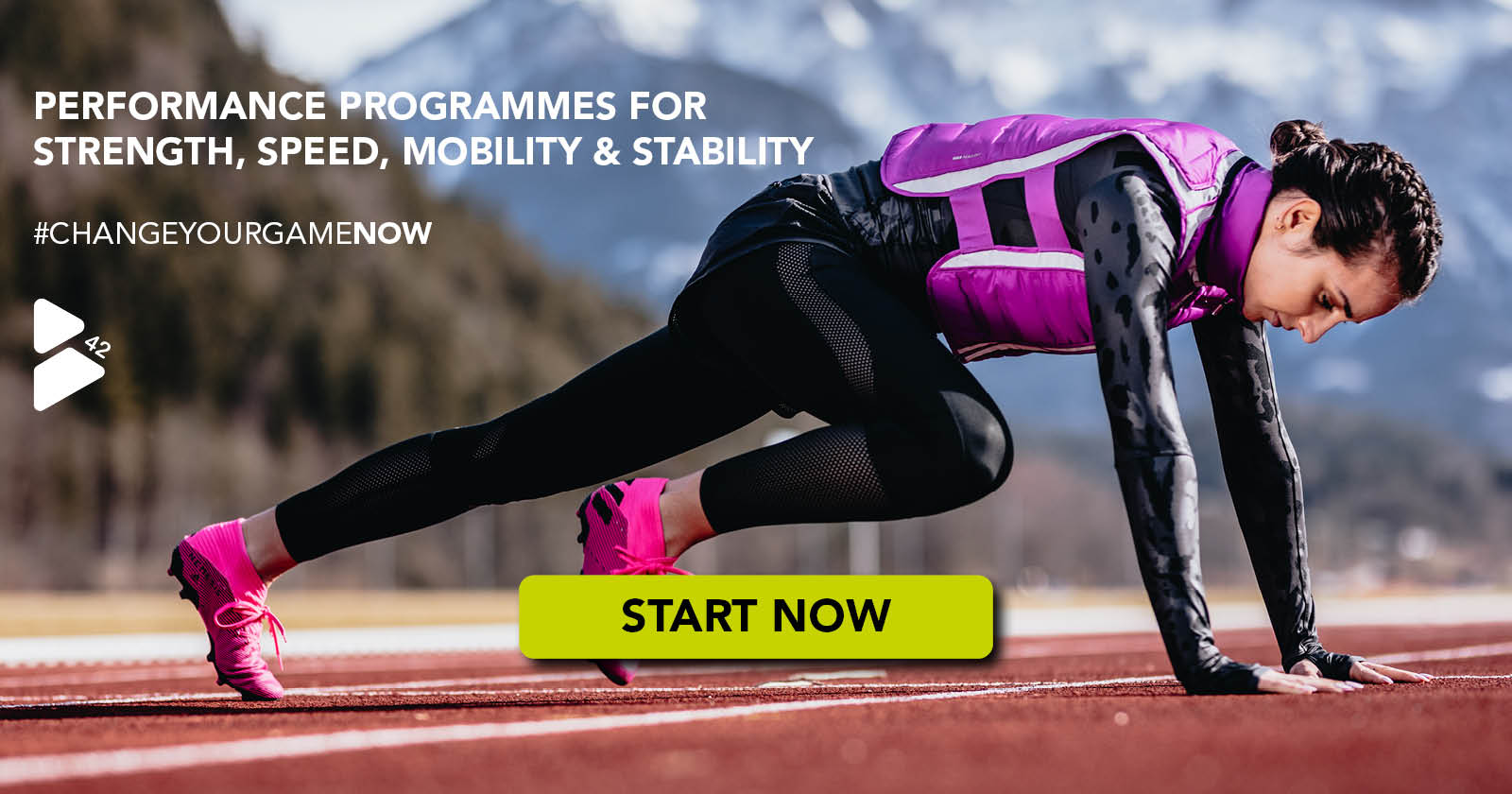 In addition to proprioceptive exercises, balancing exercises and exercises for one-legged dynamic stabilisation, there are also jump and landing exercises which effectively train the neuromuscular system in its sport specificity.
Jumping and landing exercises will therefore be dealt with separately in a future blog post.
Dynamic knee pain is therefore a major risk factor for cruciate ligament injuries. In combination with the torso-stabilising muscles, the functional force of the hip stabilisers is therefore an important factor for the stability of the pelvic-leg axis.
Therefore, it is very important for the exercises to initiate an appropriate activation in order to ultimately train you in game-specific movement patterns.
In short: also in the stabilisation training of the pelvis-leg axis, a progression of the dynamics towards game-specific movement patterns and situation training is important in order to automate a corresponding muscular activation in the injury-risk situations in the match.dem Spiel zu automatisieren.
The perfect training programme for injury prevention in women's football 
Exercise 1: Knee Positioning
Especially for women, the knee position is very important. The first exercise is to make you aware of how to activate the knees into an external rotation while standing or during exercises.
KEYPOINTS:
- Come into the athletic stance with slightly bent knees
- First rotate the knees inwards (knock-knees)
- Then rotate your knees outwards (bandy legs)
Repetitions: 20 seconds
Exercise 2: Mountain Climber
With this drill you not only strengthen and tone up your abdominal muscles, but also your legs, buttocks and shoulders. Your duel behaviour will therefore benefit.
- Start in push-up position
- Alternately pull your knees towards your chest
- Maintain body tension throughout
Repetitions: 30 seconds
Exercise 3: Side Crunch
In order to be successful and remain injury-free, you need holistic athletics. One muscle group that is often underestimated or too rarely trained is your lateral abdominal muscles, which you fall back on with every shot, pass or header.
- Start in lateral position with your legs closed and stretched
- Raise your pelvis and form a straight line from head to toe
- Keep the body tension
- Repeat this exercise on the other side
Repetitions: 20 seconds (per side)
Exercise 4: Squat 2 Sprinter
With a stable leg axis you protect yourself from injuries and your running behaviour is also much more efficient. This exercise accordingly strengthens the axis of the ankle, knee and hip and gives you a clear advantage on the pitch.
- Start from the knee bend  
- Keep your upper body straight 
- Perform a knee stroke and at the same time a swing of the arm with the counter arm 
Repetitions: 30 seconds
Exercise 5: Squat Walk
Knee bends will also show you your weak points clearly. Too little mobility in your ankle and hip? This is something footballers need to work on - for more power on the pitch at last.
- Get into the squat position
- From this low position you now alternately bring your legs up
- Work with counterbalanced arm pull
Repetitions: 30 seconds
Exercise 6: Star Tap
Starting with the the one-legged stand, you go one step further in terms of leg axis stability with the Star Tap.
- Start in the one-legged stand
- Tap with the heel forward
- Then tap with the tip of your foot in a clockwise direction
- Try not to put your free leg down and return to a stable one-legged position after each typing
Repetitions: 2 rounds (per side)
Exercise 7: Wall Drill
The knee stroke is of elementary importance in football. It determines your stride length and therefore inevitably your speed. With the Wall Sprint (Loaded Lift) we increase the range of movement of the knee stroke and therefore the training effect.
- Lean against the wall at a 45-degree angle with your upper body upright  
- Bend your supporting leg slightly 
- First move your free leg backwards and then quickly upwards 
- Your arms remain stretched out 
Repetitions: 15 (per side)
Exercise 8: Forward Lunge
As a stable leg axis protects you from injuries and a strong gluteal muscle also increases your performance, the next exercise is ideal for you as a footballer. This is exactly why this exercise should not be missing in a programme for injury prevention in women's football.
- Start in the forward lunge
- Tighten the gluteal and abdominal muscles
- Move the knee of the back leg towards the floor
Repetitions: 10 (per side)
Exercise 9: Side Lunge
An explosive start to the side - nothing unusual in football. The factors "strength" and "stable leg axis" are of utmost importance in preventing injuries on the one hand and increasing performance on the other.
- Start with a lunge to the side
- Bend the supporting leg with the free leg stretched
- Move your arms forward to balance
- Then move to the "Sprinter" position
Repetitions: 10 (per side)
Exercise 10: Tapping In & Out
Tappings are an excellent drill because they promote your fast footwork.
- Get into a stable, slightly forward bent upper body position
- Pay attention to quick foot landing on the forefoot
- One foot landing normal, then one foot landing far out
- Move your arms slightly with
Repetitions: 10 (per side)
Exercise 11: Star Lunge
As a stable leg axis protects you from injury and a strong gluteal muscle also increases your performance, the next exercise is ideal for you as a footballer.
- Tense the gluteal and abdominal muscles
- Start in a forward lunge
- Then carry out the lunges in the star pattern
Repetitions: 2 rounds (per side) 
Exercise 12: Single Leg Deadlift
With this exercise we focus on stabilising your leg axis, which is very important for you as a football player.
- Start in one-legged stand with slightly bent knee
- Bring your upper body forward; move your heel backwards and upwards
- Pay attention to a straight back and a stable pelvis
Repetitions: 15 (per side)
Exercise 13: Reverse Table Hip Extension
With this exercise we will now dynamically activate your complete back chain. For football players with many stop-and-go movements this is an important drill, because it addresses your entire spine up to the back of the thigh muscles.
- Start in the reversed quadruped position
- Tense the gluteal muscles and the back of the thighs
- Stretch the hips and lower them again
Repetitions: 20
Exercise 14: Cross Lunge
A stable leg axis protects you from injuries and a pronounced gluteus maximises your performance. Therefore, the next exercise is ideal for you as a football player.
- Take a wide lunge backwards, crossed behind the supporting leg
- Straighten the upper body
- Lower your back knee and straighten it up again
Repetitions: 15 (per side) 
Shock diagnosis cruciate ligament injury - we help you make a comeback 
These exercises are also part of our rehabilitative comeback training. With special training programmes for injuries to the knee joint, we can help you with advice and support even in the worst times of any athlete.
In doing so, we rely on the procedure "secured diagnostics - professional physiotherapy - comeback training".
After the neuronal healing phase, during the course of the comeback work, mobilising, strengthening and finally dynamic elements are gradually implemented in the individual training units.
In principle everything a football player needs to come back even stronger after a break from injury. 
About the author
 "Our body is a functional power station"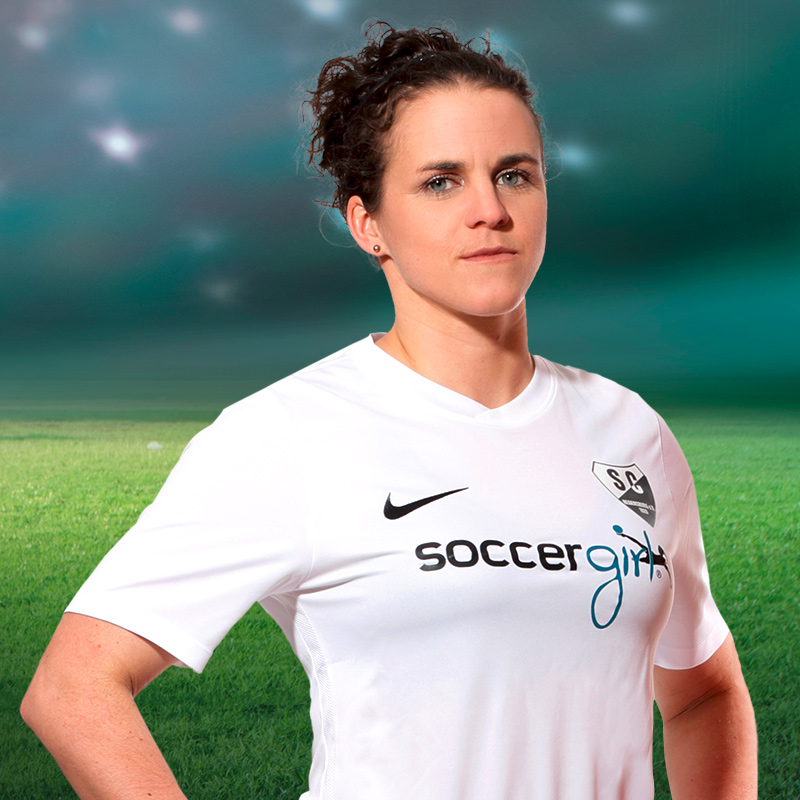 Since 2017 Dr. Birgit Fellner has been the owner of her own training centre for prevention and personal coaching called KörperKraftwerk.
After training as a state-certified physiotherapist (2005) and studying Applied Movement Science at the Institute of Sports Science at the University of Regensburg (2016), she finally received her doctorate at the University of Regensburg at the Institute of Sports Science at the end of 2019 on the subject of training programmes for injury prevention in performance-oriented amateur football.
Dr. Birgit Fellner has also worked as a rehab and athletics coach at the junior performance centre of SSV Jahn Regensburg and SC Regensburg women's football (2nd Bundesliga - Bayernliga), as a key player at the FIFA Medical Centre of Excellence Regensburg, as a lecturer and as a coach at the University of Regensburg. She is also active as a lecturer for the Bavarian State Sports Association BLSV, the Academy Sport & Health, the mediABC Academy for Further Education and the Berufsfachschule für Physiotherapie (BRK) Regensburg.
Your body - your goal - your training 
Literature
McGill et al, 2004; Zazulak et al, 2007; Kachanathu et al, 2014
Hewett et al, 2013; Barnett et al, 2014
Kachanathu et al, 2014