She is captain of FC Bayern's women's team, a national player and brand ambassador for B42. He is one of the leading players at FC Bayern, a constant in the German national team and one of the best midfielders in the world.
Lina Magull meets Joshua Kimmich - and talks to him about football under Corona conditions, individual training management off the pitch and the importance of women's football in Germany.
"The fans are simply part of football"
Lina: Dear Joshua, on 17 May 2020 you had the first ghost match against Union Berlin. Have you gotten used to it a bit in the meantime or is it still totally surreal to walk into a deserted stadium?
Joshua: You get used to it a bit, but it's clear that the fans are simply part of it. At the beginning, I still saw it as a challenge - back to the past, like when you were young, where you kick on the sports field without fans. And I thought it was good that the game has become a bit more honest. But in the end, we love the sport with all the emotions. Those are definitely missing.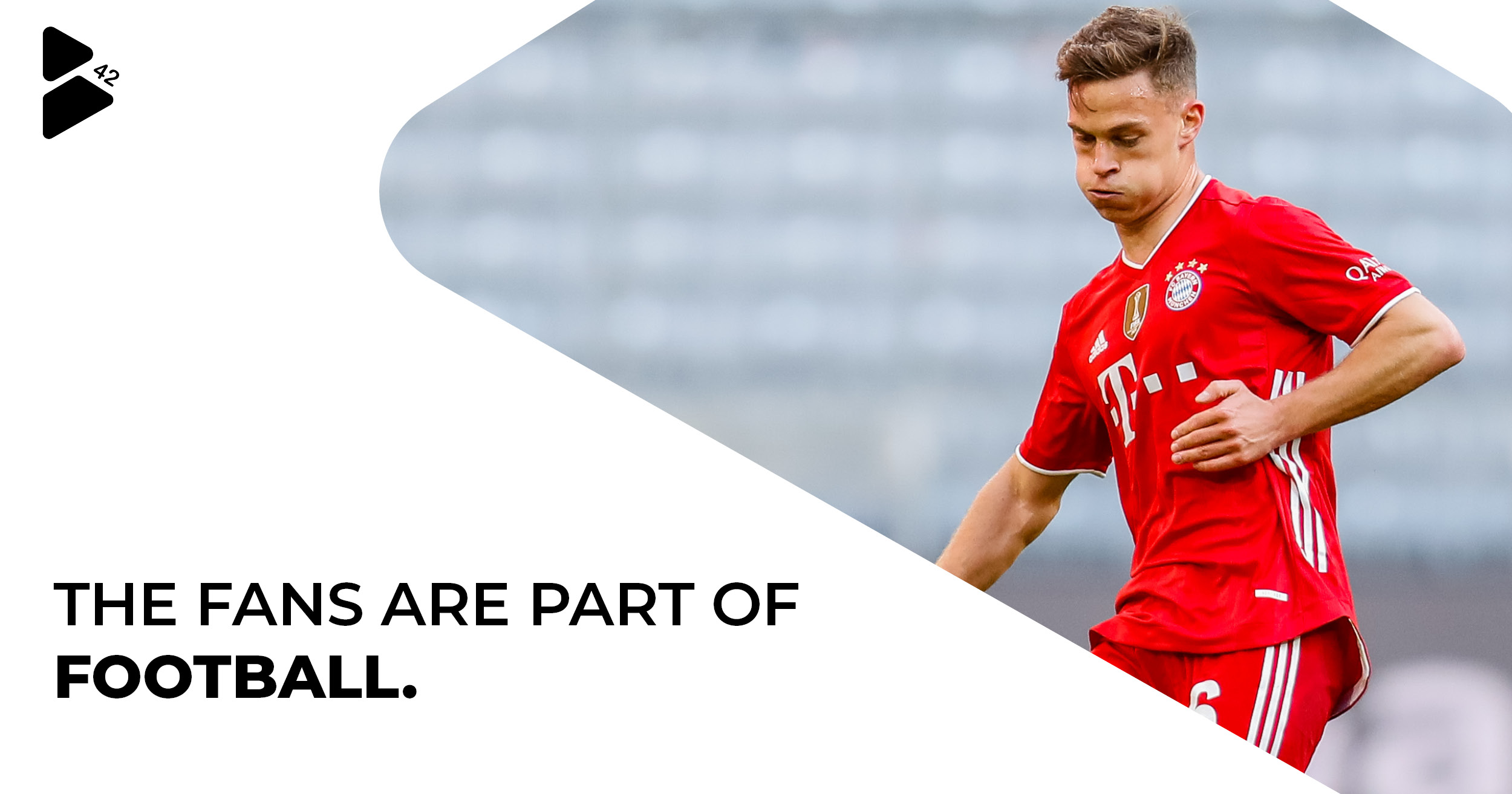 Lina: What do you mean by "more honest"?
Joshua: The time play, being left on the pitch, everything became less. The focus was more on the game itself. What experience did you have?
Lina: Of course, the contrast is not as strong as with you. When I watch your games, I sometimes ask how you communicate with each other in a full stadium. Of course, it's quieter here, too. You hear the coach's instructions better and perceive the cheers from your team-mates much more. For me, that's also the positive side: the team feeling is even more positive. You feel that on the pitch when the injured players or the substitutes push you. But of course the atmosphere is missing in the end. And what also saddens me is that family and friends are not allowed into the stadium. That gets me down.
"Good communication on the pitch has helped us in the Bundesliga and Champions League.
Joshua: Yes, communication is easier, of course. That helped us both in the Bundesliga and in the Champions League. We have a really good team structure and push each other. And it makes a difference when you press together at the front and can coordinate your commands more easily. Of course, that's more difficult with a higher volume.
Lina: Good point, I also have the impression that the quality has increased because communication is easier. That is also mentioned again and again in the team analyses: That we have to help each other more on the pitch. Do you think that the situation also has an impact on the performance of some players - in a positive way, because they no longer feel the pressure from the stands, or in a negative way, because they don't get the push from the crowd?
Joshua: Definitely. There are players who have more difficulty dealing with it when every bad pass is commented on from the outside or you are booed. Others are more concentrated and focused when the spectators are there. I've noticed that the tension in a full stadium is different. It makes a difference whether you play a bad pass in front of empty or full stands. But there is also a lack of positive emotions from outside, which can help you to surpass yourself a bit.
"It is mentally exhausting to push yourself to top level every three days".
Lina: In an interview you talked very honestly about what the pressure of the tight game schedule does to you, the Corona situation. When you have to play at the top level every three days. There are also days when you say: "I'm not really up for it today". I've noticed that about myself, too. You have to find ways to calm down, to allow yourself time off. How do you deal with that in concrete terms, or what mechanisms do you have as a team to come down from time to time?
Joshua: Of course it's mentally exhausting to push yourself to the top level every three days. But with Hansi Flick, we have a coach who gives us a day or two off to get our heads down a bit. And we have a very good momentum in the team. When I'm on the pitch, you can feel the focus and the common goal from the start.
Lina: The workload is particularly high at the moment due to the tight game schedule. How do you manage that individually in addition to team training - in order to regenerate better and always be able to give 100 per cent on the pitch?
Joshua: I'm not a fan of pure regeneration alongside the games, but rather do some strength training. I have the feeling that my body regenerates faster that way and doesn't fall into a hole. I often trust my feelings and listen to my body. How is that with you?
Lina: Similar. I prefer to work individually in the strength area - with weights or functionally. I've been doing that for years and have only had good experiences. On days off, I tend to go running and enjoy the fresh air. How do you work on your fitness individually? Do you have a personal trainer or a team around you?
Joshua: Yes, I work privately with Tim Lobinger, whom I met in Leipzig. Later our paths crossed again in Munich. I noticed that you can work on certain areas in a meaningful way even with a busy schedule.
"Training is also about simulating the intensities of a game".
Lina: Do you have an individual load control system?
Joshua: During training, the values are analysed by our athletics coach, who can see them directly on his iPad and then decides, for example, whether we do another repetition of the exercise or unit. For example, it's about simulating the intensity of a game in training. But now, during the English weeks, that plays almost no role. It's almost exclusively about regeneration between the games. How do you do that in concrete terms? How do you manage it?
Lina: Our athletic trainer at Bayern pays attention to how the load is controlled. There is a questionnaire every day in which you answer six different questions about how you are feeling. This also includes the menstrual cycle, which is often underestimated in terms of performance. Basically, he always adjusts the load and is very focused on regeneration, especially during this time. He gives us options for individual regeneration and we have a certain amount of freedom in implementing them. What else I wanted to ask you: How do you imagine the training of the young Joshua Kimmich in the youth or amateur area? Did you also do additional individual shifts?
"I got the feedback that I was too small and too lanky for a professional career".
Joshua: Yes, I always tried to do more and to train in addition to the team training. That certainly wasn't always sensible, because of course it was often not guided and therefore coordinated. Sometimes I should have given my body more rest. I particularly remember my time with VfB Stuttgart as a youth player. I got feedback from the coaches that I was too small and too lanky for a professional career. I regularly went to the weight room to work on myself.
Lina: I had support when I was young because I went to boarding school. But I am sure that it would have been good for my development to take even more initiative by having a clear plan. That's why I also believe that digital solutions in particular can be a great help here. Would an app for supplementary individual training have helped you back then? And do you think that it can be used to impart the expertise of professionals to amateurs?
Joshua: In the physical, athletic area, definitely - especially when it comes to dynamics and speed. In the past, I could have worked better in some areas; there was certainly potential there. But the most important thing is that you want to play football and that the motivation comes from yourself.
Lina: Joshua, of course I want to talk to you about women's football today. How do you perceive the importance of women's football? For example, do you follow the Bayern women's team?
"It's a pity that the women's and men's teams at FC Bayern don't train in the same place".
Joshua: Unfortunately, there is a completely different perception of women's and men's football in football. Other sports are more advanced, for example tennis or skiing. As far as FC Bayern is concerned, I think it's a shame, for example, that the women train at the campus and we train at Säbener Straße. If everyone was in one place, we would be able to live the togetherness, the common striving for the club much more strongly.
Lina: I see it that way too. It would really be ideal if we were all in one place. It would be a huge added value to have a better exchange with the men. I've noticed how valuable the exchange with the Bayern amateurs is since they've been training with us on campus. I see a totally appreciative exchange with added value for everyone. I think that the networking with the professionals could also be much better off the pitch - for example through joint events, autograph sessions, if that is possible again after Corona?
Joshua: Of course. I think that events in particular have a lot of power and there is still a lot of potential here. In the past, for example, the men's and women's DFB Cup finals took place on the same day in Berlin. Maybe the big tournaments would have the opportunity to combine them and thus create more attention but also a sense of community.
Lina: And if FC Bayern were to make a plan to organise joint autograph sessions with the women or find other ways to transfer the attention of the men to the women, would you be open to that?
"In women's football, the focus is more on the game as such - without swallows and productions."
Joshua: For me, that would only be logical. For example, Serge Gnabry and Leroy Sane were recently at a joint shoot with players from FC Bayern. Especially when you have two teams at the top level, it's a good chance to do something together and move something forward. And I think it's also possible to do that together with other sports.
Lina: I think we could learn from each other. What I notice positively about the men, for example, is that they are better at turning off their heads on the court and dealing with this enormous pressure. I also admire the way they deal with the sometimes harsh criticism from outside. You have to be a strong personality. Is there anything that impresses you about the women?
Joshua: With the women, the focus is more on the game as such. With the men, you have one or two players who are their own brand and try to present it on the pitch, for example when celebrating a goal. There is more staging. With the women, there's less show, fewer swings, less exaggeration. And they feel they are tougher.
Lina: Dear Joshua, I really enjoyed talking to you. Thank you very much for your time.
Joshua: I can only say that back. Thank you!
Get the app now with many more exercises, performance and power programmes for the most common football injuries and start your best season:


Be fearless. Be focused. B42