"Because men want it that way"
Katja Kraus is one of the most influential women in German football.
After her active career as a Bundesliga player, the current managing director of Jung von Matt/sports was press officer at Eintracht Frankfurt, a board member at HSV and a member of the supervisory board of adidas.
In the interview, she explains what experience she has had as a woman in the football business and where professional football would benefit from more women.
"In

the

early

days

,

people

persistently

looked

for

my

mistakes

"
Katja, during your active career, women's football was not yet a paid sport, how did you manage to combine football and education?
I lived in Frankfurt most of the time and also studied there when I was a player for FSV.
So I didn't have to move to another city or commute to play in the Bundesliga, unlike many of my teammates who sometimes drove up to 200km to Frankfurt four times a week after their main job to train in the evening and then back home late at night.
I had the greatest respect for that.
I had a job while I was studying and when I became a national player I also got sports aid, which was completely OK for that time.
Nevertheless, I was aware that a permanent jobwas not compatible with playing football professionally.I stopped playing football at the age of 26.
After your active career, you became press officer for Eintracht Frankfurt. You told the Stern that you experienced relatively strong resistance at the beginning. What was that and how did you cope with it?
First of all, there was a lot of surprise that a woman would take on such a position. A number of men, especially journalists, had a hard time with it. Some of them because they would have liked to do the job themselves.
In the early days, people persistently looked for my mistakes.
How did you deal with it and how long did it take until the men in the club realised that you were more capable?
Fortunately, it didn't take very long, but it was a hard start. I didn't expect the resistance at first.
At some point, I saw the special attention as an opportunity. It was a great time, the lack of structures in the organisation at the beginning gave me the opportunity to dive into all areas and learn incredibly quickly.
After all, football management is not an apprenticeship.
At HSV, where you became a board member, that paid off. How do you remember that time?
When I became the board member for communication and marketing at HSV, I already had a different standing when I started.
As a board member, I was no longer directly confronted with resentment. Interestingly, I didn't have this problem with players anyway and only very rarely with coaches. It was mainly attributions from outside that transported many stereotypes.
You were an absolute exotic in this function. Why do women still hardly play a role in professional football today?
Because men want it that way. Otherwise they would change it. Of course, there are very few of these highly attractive jobs. Importance, money, the emotionality of football, that is already a very special working environment.
Many jobs are still given to former footballers because their choice of career options after their active career is limited. And because many people still believe that a good left-back is necessarily a good coach or club manager.
Furthermore, there is no awareness of the benefits that come from diversity; the management bodies are very homogeneously staffed.
"Football should be the driving force for social developments"
In which areas do you think clubs would particularly benefit from women?
Basically, business is becoming more and more complex and different approaches are needed to find the best solutions. It is negligent to do without the competences of women.
Women have a good risk assessment, which helps a lot in this volatile business. It would also change the tone and give a better understanding of an important target group.
One way to get more women into leadership positions in this context is the quota. You were on the supervisory board of adidas. Did it play a role that you also got in because of the quota?
Not at all, I didn't have the feeling that I was perceived as a quota woman, even though I certainly was one. In the end, it's about what you bring to a board and not about how you got in.
Are there enough women who would be interested in management functions in professional football?
Absolutely. I could name many women who would definitely be an asset to a professional football club. I can think of suitable women for almost every operational function. The crucial thing is to be aware of the benefits that lie in it. And then to make an effort to recruit the women.
Do you think it is realistic that we will see a woman at the helm of a Bundesliga club in the next ten years?
I am sure of it. It will happen much faster.
"Clubs have not yet understood the brand potential of women's football"
We wrote a blog with Lina Magull a few months ago analysing why German women's football is held in such low esteem - also in comparison to other countries. What is your view of things?
The sport in Germany is dominated by men's football.
When it comes to making women's football more popular, clubs have to look at their branding and brand strategy.
In the UK, for example, this is much more the case. Among other things, players from the women's team are always present at autograph sessions of the male football stars. And there is also much more marketing for women's football.
I think there are more effective instruments than joint autograph sessions. It is much more about positioning women's football seriously within the club on its own.
Clubs have not yet understood the brand potential of women's football.
At B42, we also want to stand up against homophobia, racism and other forms of misanthropy. We also want to support women's football.
What wish / advice would you like to give us and other companies when it comes to the topic of "social responsibility"?
Be defensible and credible.
Katja, thank you very much for the interview and your exciting insights.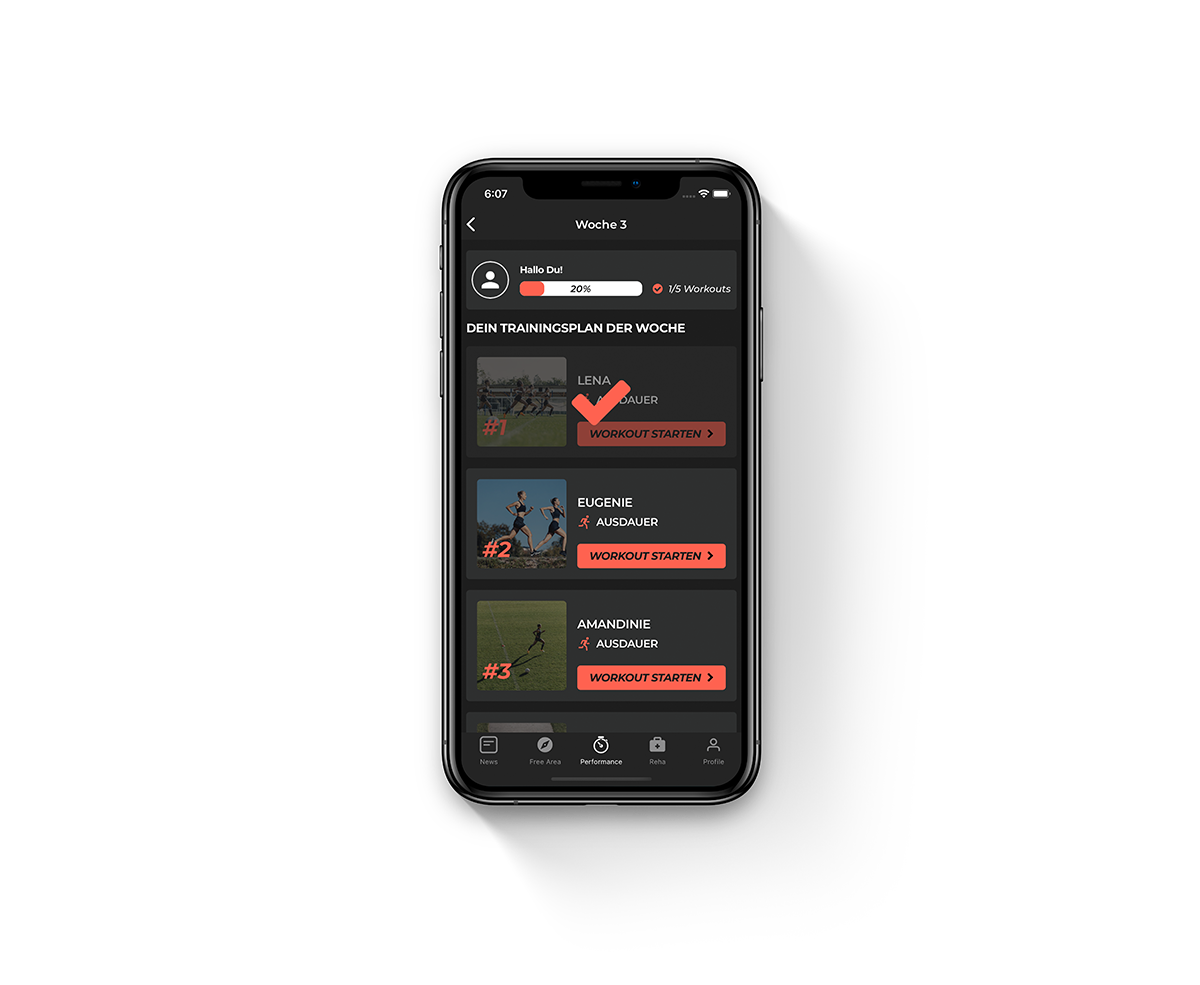 Our training programme will shape you and change you - we promise. Are you ready?
Download the B42 Football App right now:


Be Fearless.
Be Focussed.
B42
PR + Pressefoto zur redaktionellen Verwendung

lizenziert an

TAE Advisory & Sparring GmbH, Eppendorfer Landstr. 46 , D-20249 Hamburg

Abdruck honorarfrei bis 28.02.2023

Nach Ablauf dieser Frist besteht Honorarpflicht

(c)Susanne Baumann/Picture Press/ddp